iCalendarFactory
Requirements:
Windows Mobile Pocket PC 5 , 6 , 6.1
Add schedules of your favorite sports teams (NBA, Soccer) to your calendar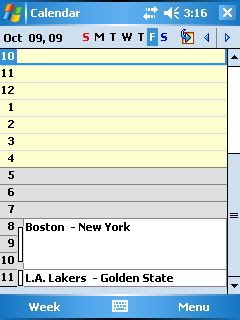 Overview:iCalendarFactory is tool that adds the games of your favorite sports teams directly to your calendar. You just need to run the program and select your favorite sport and team. After this the app will downloaded your team?s schedule for the next month and add it to your calendar automatically!
Sports available: Football, soccer, NBA, MLB, NHL, NFL, College Football.
Change log:
Version 1.0.1
Daylight savings time handling added